Will You Find Daddy at Dickslap Tonight?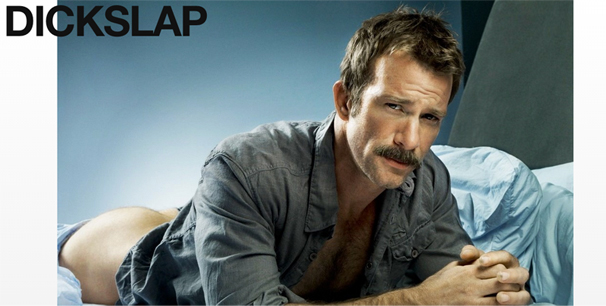 It's been a long, arduous month. You went to Pride and you met all these drag queens and you got drunk and ate BBQ on the fourth of July, but there's still something missing in your life... have you found your daddy yet? Well the search continues tonight at DICKSLAP at The Eagle.
What is DICKSLAP? Recently hosted by Dan Savage, visited by Willam, Raja and Jinkx Monsoon, and always full of the sexiest and scruffiest dudes the PNW has to offer (where do they keep coming from??), DICKSLAP (third Fridays at The Eagle) is a let loose scenario for boys and girls and more boys... a wonderland full of free beard rubs, slick hands and magical dancing gogo men, where the jello shots seem to just shoot themselves down your throat, and the sounds of the discotheque parade around and intoxicate you until you finally wake up from the dream, potentially next to someone you don't remember. Or potentially next to your long sought after daddy.
DICKSLAP has been an ever evolving love affair, starting as a collaborative F-U to the State Liquor Control Board and morphing into Seattle's funnest, sexiest and most musically driven party for dudes, described by The Stranger as "a booze-and-lust-fueled adventure in perversion." Now DICKSLAP has taken it's vision online and is carefully curating one of the most arousing Tumblr's you could possibly follow so that you may keep the dream alive everyday at your desk, just make sure to shield your screen from your boss or coworkers lest you incite an air of sexual tension.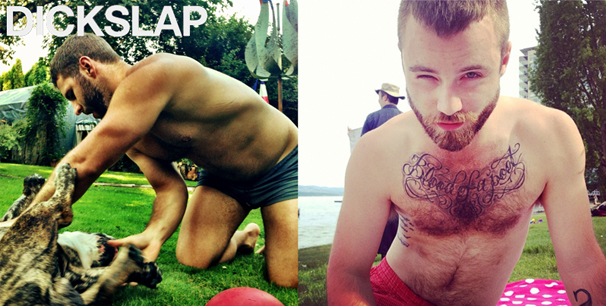 Tonight DICKSLAP holds back nothing, and neither should you. Featuring our resident cage puppies Ross Milam (of Scruff) and Baby Bear, both pictured above looking innocent and cute (lies), and special guest beardy DJ dude Jens Irish fresh in from Denver. Hosted by Cherry Sur Bete and Dita St Sur Bete (I hear they have quite the elaborate number planned as well...) with NARK opening up the dancefloor til midnight, you'll want to be getting nice and loose on hand delivered Jello shots and start kicking up those feet (on the dancefloor, perv).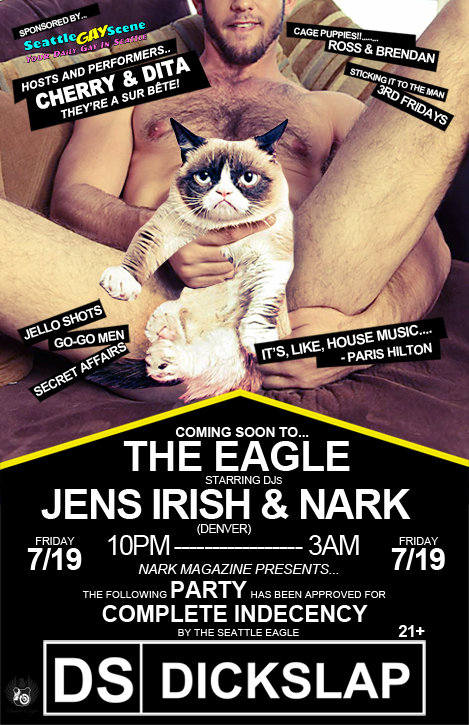 DICKSLAP kicks off tonight at 10pm at The Eagle (314 E. Pike Street) (RSVP Here), early arrival is recommended to avoid potential lines at the door. The dancing won't stop at 2am so feel free to shake it late. Save the date for next month's Dickslap which will be an official Scruff party, featuring Johnny Scruff, a stanky performance by Faggedy Randy and opening set by Riff-Raff. It will also be the official after party for It's a Shit Show with Detox Willam and Vicky Vox happening earlier the same night at Neighbours (get your tickets here).
.